As we've mentioned an exhaustive number of times, we feel like sport is one of the most underrated and underused methods of immersing yourself in the culture of a region you are traveling to. While we've attended a number of football matches while in Europe, we've yet to explore any of the other popular sports here (yes there is more than football), and this is something we are committed to changing in the next few months.
During our stay in Ljubljana we actually had a number of sports to choose from as the "Olimpija Club" (for lack of a better word) consists of football, basketball, hockey, and handball teams. We decided that going to a basketball game would be an enjoyable experience, and wouldn't you know it, there was a game during our stay between Olimpija and Crvena Zvezda (formerly known as Red Star Belgrade).
A 20 minute bus ride took us to the stadium where we picked up ticket (6 Euro each) and a couple of beers (2 Euro each). The team plays in the brand new Arena Stozice, a 12,500 seat stadium with lime green and grey everywhere.
The game itself was absolutely thrilling, with neither team ever leading by more than about 8 points. The 3,000 or so fans (nearly half of which were from Belgrade) screamed and jeered the opposition players and refs, much like every soccer game we've been to. In the end, Crvena Zvezda won 62-61, with a wide open layup with 5 seconds to go proving to be the difference.
We had an absolutely amazing time at the game. Even if the game itself had been a boring affair, we still would have enjoyed the experience. We got to see a giant of a man (7ft4in to be exact) dunk the ball 6 times without jumping, some of the most revealing and sparkling cheerleading outfits on the planet, and watch many a balding, overweight man jump around and scream like they were 5 years old again.
Next time you are traveling be sure to check out sporting events that might be going on in your region. Hockey, Cricket, Rugby, Football, Kickboxing, Water Polo – every country has something different to offer, and you'll probably be surprised at the amazing memories you will get to go home with.
On a side note, the "Green Dragons", Olimpija's Ultras group (aka the crazy/dedicated fans you see on TV) had a bit of a party going before the football match in the main square. They were singing and drinking and setting off flares and fireworks. They provided some excellent entertainment for the curious tourists, and all the while the Police kept a close watch…you can check out some photos below.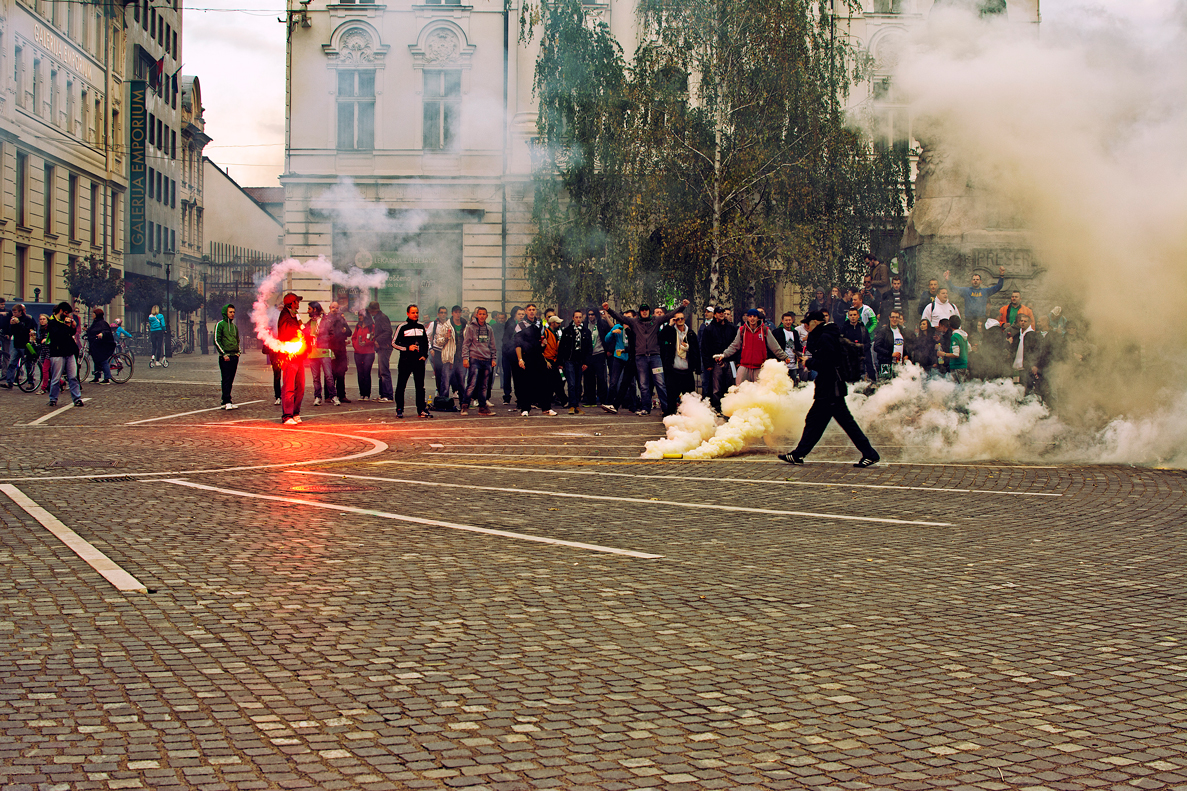 PS: I think our next sporting event is going to be the Crvena Zvezda – Partizan football match – affectionately called the "Eternal Derby" and generally regarded as one of the most heated affairs in the footballing world.