Jökulsárlón Glacier Lagoon
What do A View to Kill, Die Another Day, Tomb Raider, and Batman Begins all have in common? They all have scenes set at one of Iceland's most breathtaking sites – Jökulsárlón Glacier Lagoon.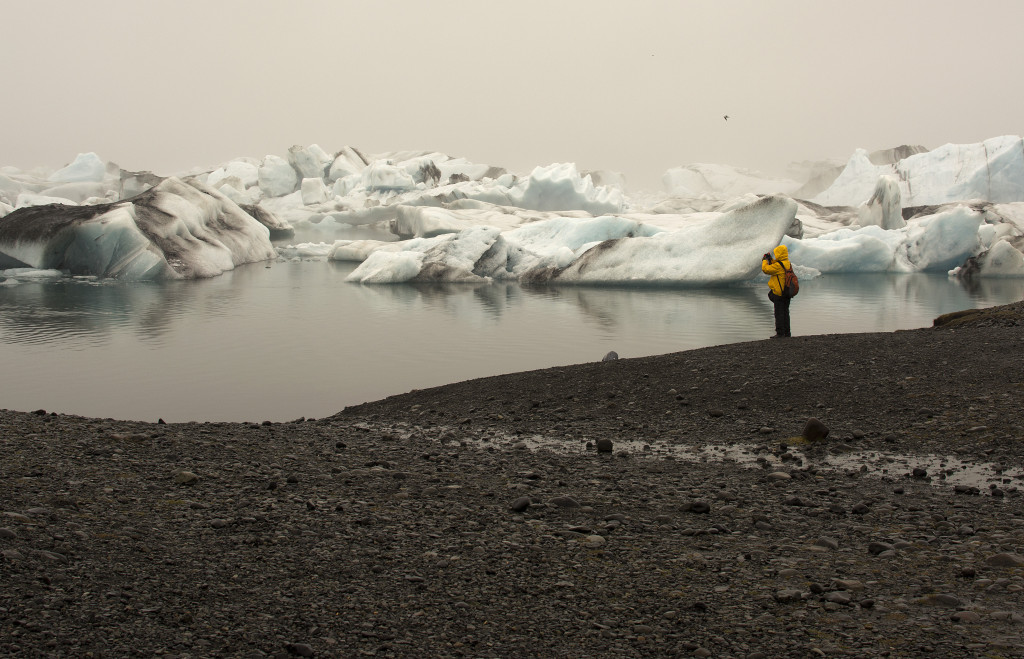 Since we had our rental car for one more day, after our Golden Circle self-drive, we decided to visit Jökulsárlón, a massive glacial lagoon known for the countless icebergs that collect there. Heading out from our accommodation just west of the town of Vik, we made the 440km round trip, passing through some of the most out-of-this-world landscapes we've ever seen.
From barren black volcanic-ash deserts to moss-carpeted boulders that stretch out to the horizon to milky blue rivers flowing over jet black volcanic rock, driving through Iceland offers scenery unlike anywhere else on Earth. We were amazed by the ease in which a rocky cliff emerged from the miles of flat, prairie-like fields, and the dramatic cliffs with countless waterfalls made it difficult for Travis to concentrate on the winding shoulderless Ring Road. The stunning scenery was only enhanced by the seemingly unending blanket of fog that clung to the cliffs alongside the road.
A few hours after we started, we were driving towards what seemed like more empty mars-like wasteland, when out of the fog a large suspension bridge and the unmistakable ghostly blue-white glacial icebergs of Jökulsárlón made us slam on our brakes so as not to miss the turn off. We made our way up the road to the visitor centre and bundled ourselves up before heading out.
We had initially planned on taking a tour on a zodiac through the lagoon, but due to cooler temperatures throughout this year, a larger number of icebergs than normal had accumulated making tour companies end their season short. Fortunately, however, this meant that there were even more icebergs closer to shore and made Calli's camera extremely happy.
We spent about half an hour wandering along the shores of the 18 km lagoon and admiring the number and size of the glacial icebergs. The icebergs result from the breakup of 100 foot tall blocks of ice that calve off the Vatnajökull glacier. Their beauty is enhanced by stripes of glacial ash that have accumulated over thousands of years. The icebergs collect in the glacial lagoon before melting enough to flow down a small river into the ocean just a few hundred yards from the lagoon.
After getting our fill at the lagoon, we hopped in the car and drove across the road and down to the beach. Most people don't seem to stop here, but we thought it was fantastic. The black ash beach becomes lined with icebergs that entered the ocean only to be thrown back onto the shore to melt. You can walk around, climb on, and even lick the icebergs if you want. And this is all with the ocean mercilessly hammering the shore with waves.
Some logistics and valuable information. The Jökulsárlón Glacier Lagoon is about 192km from Vik, taking about 2.5 hours to drive (less if the weather's good). En route is Skaftafell national park, where you can take trips up into the Vatnajökull Glacier that feeds Jökulsárlón. The lagoon itself is free to wander around, but boat tours will run you approximately 6.200 ISK for a zodiac tour and 3.700 ISK for an amphibian boat tour.