Reflecting on the A to Z Challenge – Lessons Learned
When I jumped into the A to Z Challenge two days before it's official start April 1st and without much planning I knew I was in for an uphill battle. It's called a challenge for a reason and I can't remember the last time we posted so regularly in one month. However the experience has been a great one, and now that we've managed to make it through the entire alphabet I've realized that the month was not only one of accomplishment, we have 26 more posts under our belt, but also very transformational for me personally.
Before undertaking this challenge I had no idea how well people would respond to our Beautiful BC from A to Z theme. At the time that I chose it all I cared about was the fact that it was broad enough to provide topics for each letter while also being restrictive enough that my mind wouldn't explode from too many choices. It helped that the theme was current to where we are in life right now and I knew enough about BC to write with confidence (seeing as I grew up here). However the response to our BC themed posts has been incredible. So many of you had such kind words to say about our province and your hopes to visit one day. A few of you even made me blush with your glowing accolades for the days' topics. This response has been so incredible that I can't possible stop writing about BC now. Thank-you so much for the positive reinforcement throughout the challenge, without it I  wouldn't have made it to Z.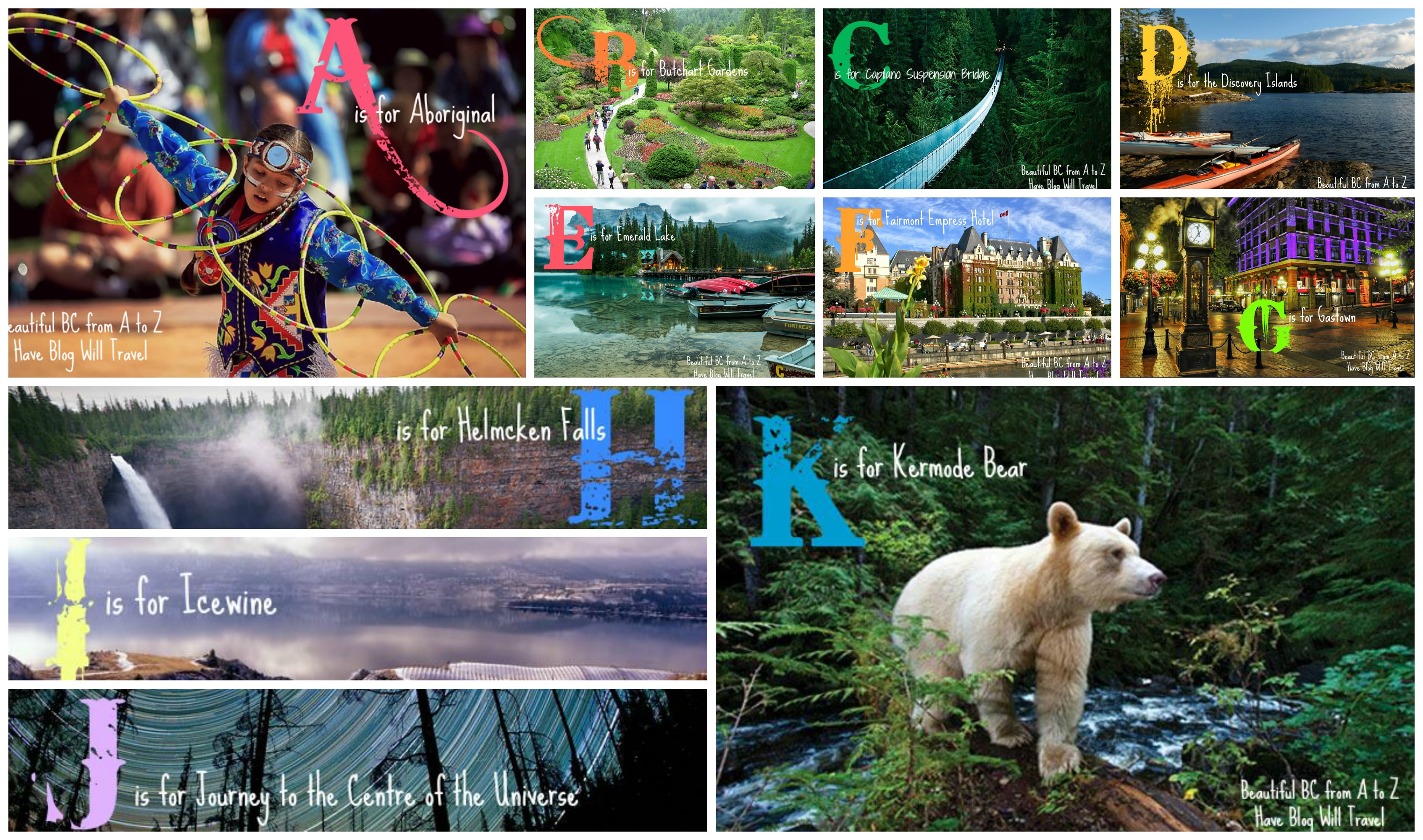 Writing about British Columbia for a month has also allowed me to fall in love with my home province all over again. After returning from Europe I felt a little lost and really wanted to be anywhere but here. However after focusing on BC for an entire month I feel more connected to the province than ever before. I'm even excited to get out and explore my small hometown. I've realized that while we may be home for the foreseeable future this doesn't mean that the travel has to stop. An important revelation for anyone who has centered their life around travel for a prolonged period of time. Travis and I are now excitedly plotting outings throughout the province and hope to put each day-off and long weekend to good use being tourists in our own backyard. This will also give me more to share and write about here at HBWT which is always a good thing.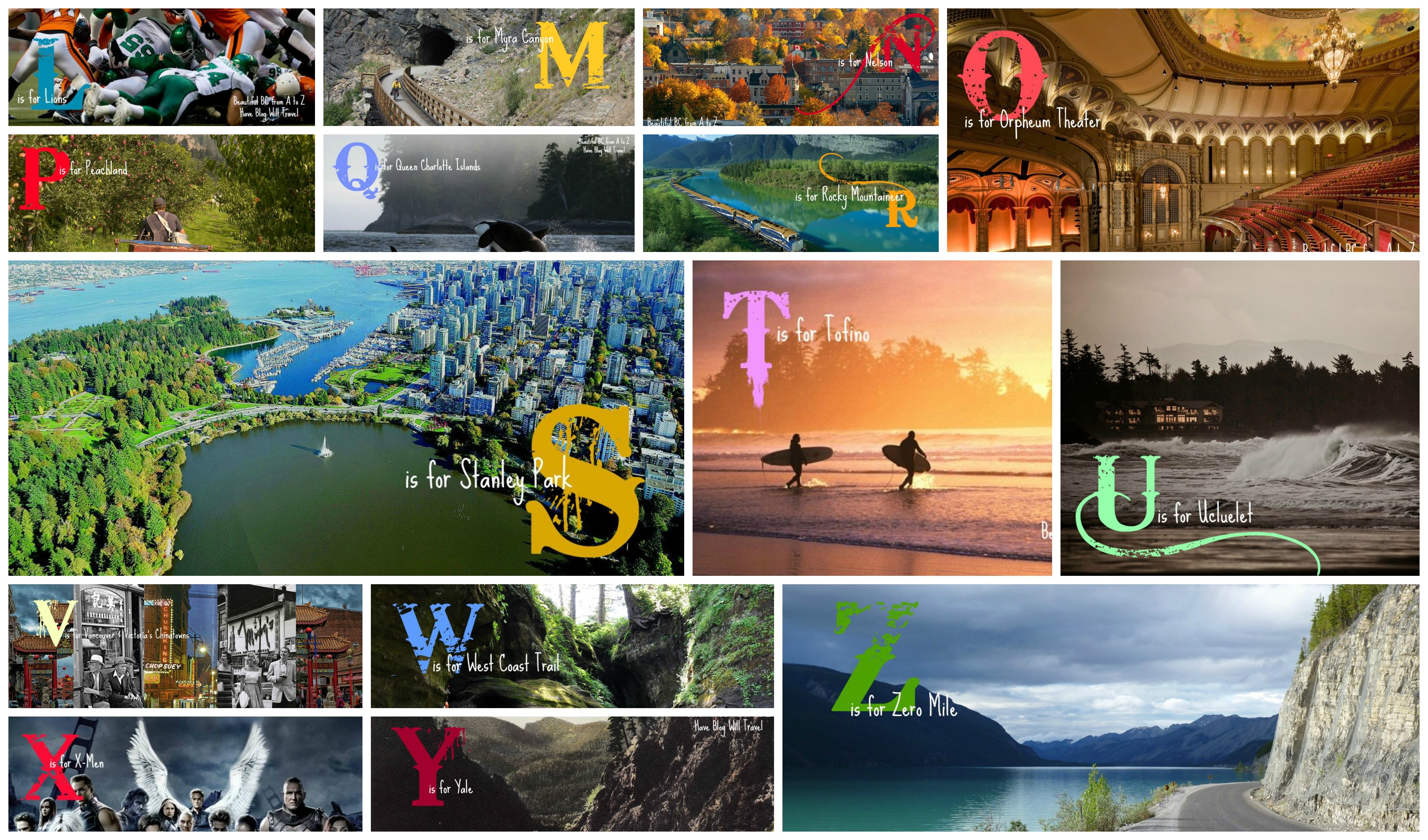 I'm really glad to have blindly signed up for the A to Z Challenge, which has been full of ups and downs at times. Here are a few tips and tricks that I learned the hard way while working through the month.
The Challenge is A LOT of work. Composing 26 posts in one month is a lot to ask of yourself in addition to the necessary research, responding to comments, and going out to comment on other posts. I would think twice before undertaking this challenge while traveling. I'd also refrain from posting other content during the month because there really just isn't any time. The A to Z Challenge gives participants four Sundays off in the month – use them wisely.
Instead of worrying about also posting other content for the month try shaking up your A to Z Posts. I tried to keep my posts as short as my run-on sentences would allow. Most are between 200-300 words. However even short posts can be a lot of work. To keep the topics fresh after the first dozen or so letters try adding in the odd longer, more detailed post. Interviews, Top 5 Lists, and photo only posts can also keep readers on their toes.
Promoting the heck out of your challenge posts is key. During the month lots of people are making the rounds so let them know you are participating through social media. As a reader visiting participating sites I found it easiest when the A to Z posts were clearly labeled (and not lost among all the other content). A simple title with the words "A to Z" or "T is for…" makes it easy for visitors to find your post and less likely to navigate away.
A page header, badge, or other easy to find link at the top of your site's page is also a great idea to send people to the day's post as well as your challenge archives.
The A to Z Challenge really is about meeting people and making new friends. You get out of it what you put in and therefore getting out of your comfort zone and taking time to leave as many comments as possible is key. If you're a travel blogger don't just visit other travel blogs, shake things up and meet new people. You may just find a killer idea for dinner or great advice on self-publishing if you're willing to look.
Again a huge thank-you to everyone who stopped by during the A to Z Challenge. It was a wonderful experience but one that I am glad is over – I need a break! As promised we will have some new BC themed content appearing on the blog soon and I look forward to keeping in touch with all the new bloggers I've met through this process!